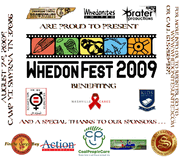 Otherwise known as Tennessee Valley Browncoats. This groups is represented by many all over the state of Tennessee. The most active of which is theTennessee Valley Browncoatsheadquartered in Nashville, TN but with representatives all over the state, some located in Memphis, Cookeville, Manchester, Dickson, Knoxville, and Chattanooga. The TVB got its name from a suggestion by Anthony Foister, of Knoxville, and shortly before Whedonfest 2009, began to work with Whedonites United to support the international movement, Can't Stop the Serenity, which is a fundraiser for Equality Now primarily. TVB choose also to include Kids Need to Read, and Nashville Cares as addition charities to raise money for. Along with Prater Productions, and Whedonites United, Tennessee Valley Browncoats helped raise over 2000 dollars for these charities.
To spread the signal, Tennessee Valley Browncoats also made an appearance at Dragon Con 2009, and continue to "Serve by building Community" by helping organize a party and several panels at the Nashville held GMX (Geek Media Expo). Look for more to come . . .
External Links
Edit
Tennessee Browncoats Yahoo Group
| | |
| --- | --- |
| | This article is a stub. You can help expand the Browncoat Wiki by adding to it! |
Ad blocker interference detected!
Wikia is a free-to-use site that makes money from advertising. We have a modified experience for viewers using ad blockers

Wikia is not accessible if you've made further modifications. Remove the custom ad blocker rule(s) and the page will load as expected.