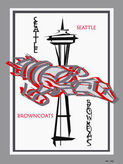 The Seattle Browncoats have long been one of the most active group of flans in the 'Verse. Their Seattle Shindigs thread on the OB (original Fox message board) is legendary.

Seattle Browncoats are once again flyin' into the Black in 2011 for the 6th Annual Can't Stop the Serenity charity event for Equality Now on September 17th! Grab a friend and hold on - we'll be rocking the ship with live entertainment and a shiny time! link to
CSTS Seattle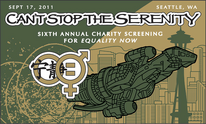 Like so many other cities, the Seattle Browncoats hosted a very successful Can't Stop the Serenity/Equality Now! Charity Screening of Serenity in June of 2006 and on June 23rd, 2009 and raised $5485 for Equality Now!
Check here for information.

In 2008, they once again hosted a Can't Stop the Serenity/Equality Now! Charity Screening on June 22 and raised $3892.00 for donating to Equality Now. [1]
2010 marked the 5th year of the "Can't Stop the Serenity" charity event with a new venue at the Museum of History and Industry in Seattle on July 17th, 2010. Over 250 people joined in the fun at this shiny gathering of Browncoats and fans!

Seattle 'Coats set-up and participate in RP games; have many singing events with local Filkers; attend Sci-fi conventions in order to recruit more fans and organize the yearly "Can't Stop the Serenity" charity event in the summer to honor Joss Whedon and support Equality Now.


The Bedlam Bards, Michelle Dockrey and Tony Fabris (Vixy & Tony), and Seanan McGuire have been known to entertain the Flans in Seattle with a rousing chorus of "The Hero of Canton" and "Mal's Song".

On Saturday November 24th, 2007 there was the first ever Filk Jam with a filking open mic at the Wayward Coffeehouse.

Sereniversary is celebrated at the end of September with a gathering for music and mayham! Everyone was welcome and be prepared to share your favorite "Firefly" and "Serenity" quotes! Our latest shindig on Sereniversary 2009 is available for viewing at Pacific Fen Spotlight - http://www.pac-fen.com/episodes/E205-Sereniversary_2009/ Go here for details.
External Links
Edit
Seattle Browncoats Meetup Board
Serenity Movie Forums
Seattle Browncoats Main Website