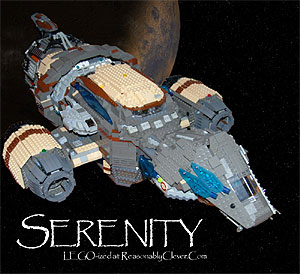 From the website:
"A look at one man's obsession to build Joss Whedon's firefly-class ship Serenity out of LEGO bricks. A tale of woe, and whoa. You'll laugh, you'll cry, you'll kiss fifteen minutes or so of your life goodbye as you wander through these pages..."

Current Browncoat-y projects include:
"Mama Serenity"
Snack-sized Serenity
Mule Hovercraft
Serenity 3 project
Serenity 4 project
External Links
Edit
LEGO central @ ReasonablyClever.com - (includes many other unique creations besides Serenity, including 'The Church of the Flying Spaghetti Monster'!)
Ad blocker interference detected!
Wikia is a free-to-use site that makes money from advertising. We have a modified experience for viewers using ad blockers

Wikia is not accessible if you've made further modifications. Remove the custom ad blocker rule(s) and the page will load as expected.