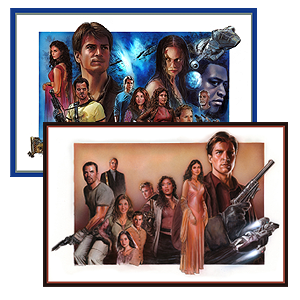 Jason Palmer is an illustrator specializing in sci-fi artwork. He is a fan of Firefly and Serenity and has done several illustrations based on both. He also creates works based on Star Trek, Star Wars, licensed artwork for Universal Studios, Warner Brothers, and Lucasfilm, prop art, story boards and more.
Art for Browncoats
Edit
Palmer has created numerous works based on the film and movie, including:
Limited Edition Portraits - Mal, Zoe, Kaylee, River, Book, & Simon (coming soon)

Shindig Print
Mal & Inara Print
Firefly Print
Serenity Limited Edition Print
External Links
Edit
Ad blocker interference detected!
Wikia is a free-to-use site that makes money from advertising. We have a modified experience for viewers using ad blockers

Wikia is not accessible if you've made further modifications. Remove the custom ad blocker rule(s) and the page will load as expected.