Geekstravaganza is sci-fi event started in 2007 by the Austin Browncoats. Activities at the event include live music, talent show, costume contest, raffle, and more. Proceeds raised from the event go to charity.
A night for all geeks, nerds and sci-fi fans!
Geekstravaganza 2009
Edit

Geekstravaganza is a charity geekfest the Austin Browncoats host to raise money for a worthy cause while uniting Geeks, Nerds and Browncoats alike. This year, we're supporting SafePlace, in their goal to end sexual and domestic violence through safety, healing, prevention and social change.
Each Geekstravaganza, we invite a new musical act to regale us in song (as we do our best Carlton dance). This year, we're honored to have Marian Call, a geek goddess, visiting our section of the 'verse. She'll perform two sets, while spinning plates in both hands and jumping on one foot. Seriously. She's that good! (Don't hold us to this, though. Marian might not have told us, per se, that she can do this, per se, but, maybe?)
"But what else can we look forward to, huh?"
How about an All-Geek Talent Show, All-Nerd Costume Contest and all Sci-Fi Trivia Bee. Winners get to bring home fabulous prizes and proudly let their geek banners fly! Last year, our talent show winner was Austin's own Ernie Cline, writer of geek favorite, Fanboys. Think you have what it takes to win the big prizes? Get your geeky talents ready, because we hope 2009 is at least the 12th root of 2 times better than Geekstravaganza 2007.
"Is that it? Really?"
Nope, that's not it. There is more! We'll even have some awesomely geeky (verging on a little too cool) demonstrations and an Air Combat tournament judged by Austin's favorite ninjas, Cry Havoc. What's Air Combat? Wouldn't you like to know! Real geeks know Air Combat, but if you're just borderline geek, keep your eyes on this website for an update on our Air Combat tournament!
When: May 17th, 2009, starting at 5PM
Where: Buffalo Billiards, Austin, TX
Why: Geeks like to do good works!
Guests:
Musical - Marian Call
Demonstrational - Cry Havoc
Geekstravaganza 2007
Edit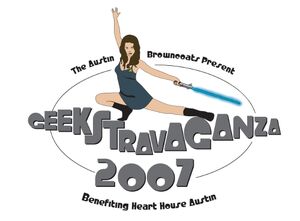 Charities Supported
Austin Browncoats
Heart House Austin
Location

Stubb's BBQ, Austin, TX

Date

October 21, 2007 - 5-10PM

Featuring
The All-Geek Talent Show
The All-Sci-Fi Costume Contest
The All-Nerd Trivia Bee
External Links
Edit
Ad blocker interference detected!
Wikia is a free-to-use site that makes money from advertising. We have a modified experience for viewers using ad blockers

Wikia is not accessible if you've made further modifications. Remove the custom ad blocker rule(s) and the page will load as expected.