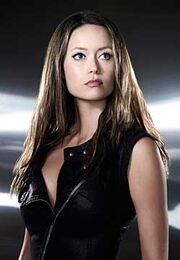 Summer Glau will be a guest at the StarFest 2010 Entertainment Convention April 16-18, 2010 in Denver, Colorado.
Edit
Like so many martial-arts trained actresses before her, Summer started out as a ballet dancer. One can only imagine that when an ankle injury ended her dancing aspirations, she decided to channel that passion into what has become an incredible acting career; playing innocent-looking, but deadly killers.
Ironically, it was her appearance as a ballet dancer on the genre TV show Angel that she was spotted by the series' creator Joss Whedon. He later cast her as River Tam in his sci-fi series Firefly. She then reprised and greatly expanded that role in the Serenity movie.
Cashing in on her Sci-Fi cred, Glau created the role of Cameron Phillips in the critically acclaimed, but short-run series Terminator: The Sarah Connor Chronicles in 2008. Her portrayal on that series as a delicate, but deadly android has Terminated many a fan boy's heart. That fact was comically exploited on the hit series The Big Bang Theory when she appeared as herself on a train with Howard Wolowitz.
Ms. Summer resumed work with Joss Whedon on his Dollhouse series in the 2009 and 2010 seasons when she portrayed Bennett, the super-intelligent, physically damaged and mentally-twisted programmer for a rival Dollhouse on the series. It was one of those crazy-great roles that she really got to sink her teeth into – very reminiscent of Peter Seller's demented scientist in the classic Dr. Strangelove – albeit turned down a notch or two.
Later this year you'll see be able to see her starring in the TV production Deadly Honeymoon and feature film The Legend of Hell's Gate: An American Conspiracy.
Summer Glau will be appearing onstage at StarFest on Saturday, April 17th. She will also be available for autographs and photos. For more information on StarFest 2010 go to http://www.starland.com.
External Links
Edit
Ad blocker interference detected!
Wikia is a free-to-use site that makes money from advertising. We have a modified experience for viewers using ad blockers

Wikia is not accessible if you've made further modifications. Remove the custom ad blocker rule(s) and the page will load as expected.