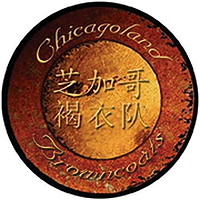 Chicagoland Browncoats first met on December 20, 2002 at the viewing of the last Firefly episode - the tv pilot of Serenity.
This was the first foray into fandom for many of the original Chicagoland Browncoats. After meeting everyone gathered, we all collectively called our loved ones to reassure them that no serial killers were present and proceeded to have a mighty fine shindig.
Some of us kept in touch and we decided we wanted to continue to support the show hoping that our efforts, along with Browncoats around the world, that our show would be picked up at another network.
* 2004

* 2005

* 2006

*2007 

We meet as often as we can but there are some gatherings that have become tradition.
All information for upcoming shindigs can be found in the Chicagoland Browncoats Forum and we are completely open to new shindigs! Mostly if you want to have a shindig, you may want to post a poll to see how much interest there is then go from there.
Our Can't Stop the Serenity Screenings move around as needed and will be on August 29, 2009 this year. (was in June in 2007 and July in 2008)
Related Link
Edit
External Links
Edit
Chicagoland Browncoats Website
Chicagoland Browncoats Yahoo Group
Chicagoland Browncoats on MySpace
Chicagoland Browncoats on Twitter
Chicagoland Browncoats on Facebook
Chicagoland Browncoats present Can't Stop the Serenity
Ad blocker interference detected!
Wikia is a free-to-use site that makes money from advertising. We have a modified experience for viewers using ad blockers

Wikia is not accessible if you've made further modifications. Remove the custom ad blocker rule(s) and the page will load as expected.